Hello
Thankyou for being a valued subscriber to the Essential Organic Living Newsletter.
"Autumn to winter, winter to spring, Spring into summer, summer into fall- So rolls the changing year, and so we change; Motion so swift, we know not that we move." Dinah Mulock Craik
Table of Contents:
Chemical Ingredient Highlight
Useful tip for Chemical-Free Living
Organic Product Highlight
Healthy Organic Recipe
A touch of humor/Inspiring story/Quote
It's the middle of April and we are into the second month of Autumn here in Australia. The weather has been kind, especially over the Easter break which was a great time to get out into the garden and prepare for the colder months ahead.
Over the first week of school holidays my family spent some lovely sunny afternoons playing in the garden. We also prepared our vegetable plots with compost and mulch to ensure the new lot of organic seeds and seedlings have the best soil to grow in. Our two year old especially enjoyed digging in the dirt as all young boys do, although teaching him to place 1 or two seeds in each little hole was tricky. We may have as many as 10 seedlings attempting to grow in the one area. We shall thin these out in a few weeks time. Fingers crossed!
So with the cooler months ahead its time to pack away the swimsuit and pull out your favorite winter woollies. Time to get out the list of New Years resolutions you stuffed into your undies drawer on a warm summers night. Read over your "to do list" for 2009 and get focused, be open to positive change.
Miranda
---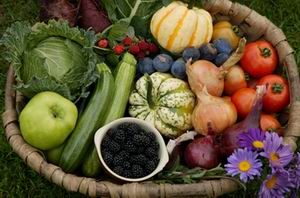 ---
Chemical Ingredient Highlight
Phenol
Phenol is a toxic white crystalline solid with a sweet tary odour commonly referred to as a "hospital smell". Also known as carbolic acid derived from coal tar. It functions as a preservative and denaturant and has antiseptic properties.
Potential Effects:: Respiratory, cardiovascular, kidney, liver and neurotoxicity; paralysis; rash; nervous disorders; carcinogenic
Cosmetic Uses: found in mouthwash, hand lotion, sunburn lotion, soap, shaving cream.
Other Uses: disinfectant
Other Names: carbolic acid, benzenol, phenylic acid, hydroxybenzene and phenic.
Ensure you read ingredients labels, become an ingredient detective and aim to avoid products containing this chemical. For further information please refer to websites below: www.waddick.mionegroup.com/toxic
To purchase unique and pure Certified Organic products that contain NO: toxic petrochemicals, propylene glycol, parabens, sodium lauryl sulphates (SLS), synthetic dyes or perfumes, fragrances, mineral oils, paraffin, chemical colouring, artificial colouring, animal fats and are NOT tested on animals.
Click here for MiEssence Products A wise investment in yourself that will ensure you are not exposed to any nasty chemicals and thus protect your health and the health of the environment.
The information on Phenol was sourced from "The Chemical Maze Shopping Companion". Your guide to food additives and cosmetic ingredients. Bill Statham 3rd Edition 2005 Possibility.com
---
Useful Tip for Chemical-Free Living
Nobody likes puffy bags under the eyes. Raw cucumber or potato slices will help tighten baggy, puffy eyes. All you need is a cucumber or potato and a knife! Cut two slices, wet eye area, lay down and place slices on your eyelids for at least 10 minutes. Your eyes will indeed look refreshed.
---
Organic Product Highlight

Organic Mineral Makeup
Miessence chemical free cosmetics are designed with nature in mind. Shimmer creme for cheeks and lips and lip cremes of every colour you could desire. Their organic lipstick range made from pure mineral pigments is just superb and the colours are a direct reflection of the natural environment we live in. Beautiful hues of plum, grape, berry,cocoa, paprika, peach,melon, cinnamon and nutmeg.
Click here to discover more about this delightful product Buy Miessence chemical free makeup Today
---
Healthy Organic Recipe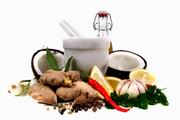 Rice Paper Rolls
100 g cellophane noodles
Place noodles in a large bowl and cover completely with boiling water. Stand for 5 minutes to soften, then drain well.
12 large rice paper wrappers
Fill a large bowl with hot tap water; then soak the rice paper wrappers one at a time until softened.
Remove carefully and drain on absorbent paper or a tea towel.
Ingredients:
60 g roasted organic peanuts, chopped
2 tablespoons of freshly picked chopped corainder
1 small organic carrot
2 tablespoons of sweet chillie sauce
12 Vietnamese mint leaves shredded
1 duck breast or chicken breat cooked and sliced( optional)
1/2 cup fresh bean shoots
salt and pepper to taste
Method:
1. Place noodles, bean shoots, peanuts, coriander, carrot and chilli sauce together in a large bowl and mix well.
2. Lay a wrapper out onto a chopping board.
3. Add a little of the prepared filling on the bottom centre of each softened wrapper.
4. Roll end up over filling and add Vietnamese mint leaf.
5. Add a slice of roast duck.
Fold in sides and roll up to the top.
Makes 12
Enjoy!
For more healthy recipe ideas please see my full listing at Organic Food Recipes
---
Quote of the month:
"One of the most sublime experiences we can ever have is to wake up feeling healthy after we have been sick. Even if it is only relief from a headache or toothache, the health we take for granted most of the time is suddenly seen to be an incredible blessing. Today, realise if you have nothing else but your health, you are a wealthy woman. If you have a healthy mind, a healthy heart, and reserves of stamina and creative energy to draw on, the world is literally lying at your feet. With your health you have everything." Sarah Ban Breathnach
"If you have any questions, comments or suggestions please send me an email. I would love to hear from you.
Health and Happiness
Miranda Waddick
www.essential-organic-living.com
miranda@essential-organic-living.com