Hello People!
Thankyou for being a valued subscriber to the Essential Organic Living Newsletter. Every month I hope to bring you interesting articles, scrumptious recipes, useful tips, product highlights, inspiring quotes and more.
"Winter is the time for comfort, for good food and warmth, for the touch of a friendly hand and for a talk beside the fire: it is the time for home", Edith Sitwell
Table of Contents:
Organics in the News
Chemical Ingredient Highlight
Useful Tip For Chemical-Free Living
Organic Probiotic Product Info
Healthy Organic Recipe
A touch of humor/Inspiring story/Quote
Here in Australia, winter is upon us already. I must admit I am not a big fan of the cold weather (give me warm days swimming in the ocean any day) but I do enjoy Australia's rather mild change of seasons, in particular Autumn. I love its calmness, cool mornings, bright colours and sunny afternoons. It ever so gently prepares us for the coming winter and its harshness. For me personally venturing in to the winter months is a time of rejuvenation, organization and reflection.
I tend to be rather productive in winter and do things like de-clutter my home, pack all the summer clothing away and bring out all the warm linen, rugs and blankets, cook wholesome soups and casseroles and go to bed early and read one of the good books I got given for Christmas!
It is a time to stand still, take a deep breath and enjoy the quietness of our own thoughts. To begin to really focus on those goals we set ourselves early in the New Year and action them with enthusiasm and a sense of urgency.
On that note please enjoy my newsletter. I greatly look forward to receiving your feedback and suggestions as I want to be sure you are getting precisely the content you are interested in. I also hope that you find it enjoyable, informative and inspiring.
---
Organics in the News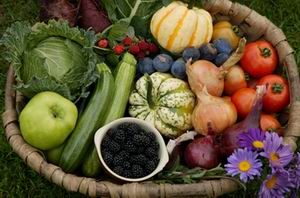 OFFICIAL: ORGANIC REALLY IS BETTER
Recently in the UK an article appeared in the Sunday Times headed: Official: Organic really is better.
This was a rather large study done on organic food to compare the nutrition values of ordinary produce versus organics. It concluded that organic food is indeed more nutritious and may assist in keeping us alive longer.
This study greatly helps in the promotion of organics as the best choice for our health and may even lead to the UK government advising the public to eat organic food over commercial products.
Some of the examples given were: researches grew fruit and vegetables and reared cattle on adjacent organic and non-organic sites on a 725 acre farm attached to Newcastle University, and at other sites in Europe. They found that levels of antioxidants in milk from organic herds were up to 90% higher than in milk from conventional herds.
As well as finding up to 40% more antioxidants in organic vegetables, they also found that organic tomatoes had significantly higher levels of antioxidants, including flav-o-noids thought to reduce coronary heart disease.
To read the full article please go to:
---
Chemical Ingredient Highlight
Sodium Lauryl Sulphate
Sodium Lauryl Sulphate is a surfactant, denaturant and emulsifier.
You will be surprised to find that a lot of your commercial personal care products will contain this ingredient. It can be found in bubble baths, hair conditioners, liquid hand and body wash, shampoos, toothpastes, moisturisers and 90% of products that foam. It can also be found in cake mixes, dried egg products, marshmallows, and industrial cleaning products. Potential Effects: skin,eye and mucous membrane irritation; dry skin; eczema; mouth ulcers; liver and gastrointestinal toxicity; on NIH hazards list; toxic to aquatic animals. Animals exposed to SLS experience eye damage, central nervous system depression, laboured breathing, diarrhea, severe skin irritation and even death.
Young eyes may not develop properly if exposed to SLS because proteins are dissolved. SLS may also damage the skin's immune system by causing layers to separate and inflame.
Ensure you always buy organic products with "certification" and read ingredient labels, become an ingredient detective and aim to avoid products containing this chemical and many others.
For further information please refer to website: toxic ingredients Another good website to start researching the chemicals used in skin care and other products is www.hazard.com/msds This takes you to the SIRI( Safety Information Resource Inc.) MSDS website. You are given 3 research options:
Search by manufacturer ( you probably will not know them)
Search their database by entering ingredient name-try this one
Additionally you can search another database for chemical toxicity data not found in MSDS section
To purchase pure Certified Organic products click here A wise investment in yourself that will ensure you are not exposed to any nasty chemicals and thus protect your health and the health of the environment.
The information on SLS was sourced from "The Chemical Maze Shopping Companion". Your guide to food additives and cosmetic ingredients. Bill Statham 3rd Edition 2005 Possibility.com
---
Useful Tip For Chemical Free Living
Sodium Lauryl Sulphate (SLS) is frequently disguised in semi-natural cosmetics with the explanation "comes from coconut".

I recommend to always check the ingredients of your personal products as SLS does come from coconut but its natural state has been modified.
---
Organic Probiotic Product Info

In-Liven Probiotic
"The secret to good health lies in the friendly bacteria in the intestinal tract"
IN-LIVEN is a Super Food containing 18 Amino Acids, including the 8 essentials, many significant enzymes and a broad spectrum of essential nutrients. It contains the complete Lactobacillus family and includes organic spirulina, alfalfa grass, vitamins A,B, C, D, E, F,K and more!
Research shows that Lactobacillus bacteria can:
reduce cholesterol in the blood
increase nutrient assimilation, including calcium
reduce high blood pressure
assist in the elimination of ailments such as colon irritation, constipation, diarrhea and acne
retard yeast infections
strengthen the immune system
help digest fats, proteins and carbohydrates
produce natural anti-bacterial agents
produce cancer or tumour suppressing compounds
reduce unhealthy bacteria in the intestinal tract
detoxify poisonous materials in the diet
Things that can kill healthy bacteria in the body; Antibiotics, birth control pills, steroid or hormonal drugs, fluoride, chlorine, coffee, tea, carbonated drinks, synthetic vitamins, radiation, stress, preservatives, additives, pesticides, fertilizers.
To ensure you are purchasing a high quality probiotic ensure that the bacteria are alive and in a natural organic state and have not been tampered with or altered in any way. It should always be certified organic. In-Liven has been certified by the ACO, Australia's largest certifying body. It is a unique combination of whole foods and friendly bacteria and no other food in the world can offer this level of molecular nutrition.
Buy In-Liven today Blend 1 teaspoon with water or juice to make a delicious smoothie or sprinkle on your favourite food. 1 teaspoon 1 to 3 times a day. I personally take In-Liven daily first thing every morning. It truly is an amazing supplement for the body.
---
Healthy Organic Recipe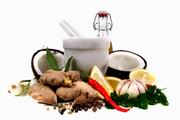 Organic sweet potato and red pepper soup
Ingredients:
750grams of orange sweet potatoes-peeled and diced
½ cup organic coconut cream or milk
1 large red onion-roughly sliced
2 large red peppers-halved and deseeded
500ml of vegetable stock (home-made would be preferable)
1 tablespoon of olive oil
½ clove of garlic-crushed
Salt and pepper to taste
Dash of paprika
Place the chopped vegetables in a large roasting tray and rub with the olive oil, garlic and bake at 200C for 40-45 min or until soft
Blend the vegetables in a blender or food processor with a little stock until the mixture becomes a puree, add more stock until the soup is a good consistency
Reheat in a saucepan, add coconut cream and add salt and pepper to taste, garnish with paprika
Enjoy with crusty bread rolls!
For more healthy recipe ideas please see my full listing at Organic Food Recipes
---
Quote of the month:
"Gratitude unlocks the fullness of life. It turns what we have into enough, and more. It turns denial into acceptance, chaos into order, and confusion to clarity. It can turn a meal into a feast, a house into a home, a stranger into a friend. Gratitude makes sense of our past, brings peace for today, and creates a vision for tomorrow." Melody Beattie
If you have any questions, comments or suggestions I would love to hear from you. Just send me an email.
Health and Happiness
Miranda Waddick
www.essential-organic-living.com
miranda@essential-organic-living.com