Hello People!
Thankyou for being a valued subscriber to the Essential Organic Living Newsletter.
"Each friend represents a world in us, a world possibly not born until they arrive, and it is only by this meeting that a new world is born." Anais Nin
Table of Contents:
Organics in the News
Chemical Ingredient Highlight
Useful Tip for Chemical Free living
Organic Skin Product Highlight
Healthy Organic Recipe
A touch of humor/Inspiring story/Quote
It's November and the last month of Spring here in Australia. Its time to prepare the garden for summer, start shopping for Christmas and plant those lettuce and tomato seeds in the veggie patch!
Enjoy!
Miranda
---
Organics in the News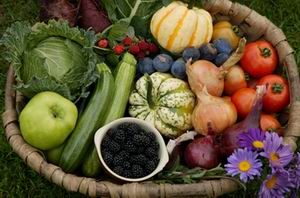 Pregnancy Cleaning Concerns.
October 7 2008
Pregnant women are too freely exposing their unborn babies to household chemicals that could be damaging their lung development and making them vulnerable to asthma in childhood, a leading child health expert warned.
"We have increasing evidence that everything from the pesticides used on roses to the bleach in the bathroom impact badly on the developing lungs of unborn babies but this evidence has yet to change behaviour in Australian homes," Prof Sly said. (a World Health Organisation collaborator with the Telethon Institute for Child Health in Perth)
"We need some strong public health messages around this so parents realise what they are doing."
"Natural products your grandmother would have used, like bicarbonate of soda, lemon juice and vinegar, are going to be much better for developing foetuses," he said.
"And contrary to all the ads on television, it's probably wrong to be obsessive about cleaning. I'm not saying we should all live in squalor but commonsense should prevail."
To read the full article click here:
---
Chemical Ingredient Highlight
Parabens
Preservative. Found in everything from makeup remover to shaving cream. These chemicals act as preservatives, extending a product's shelf life by inhibiting bacterial growth. They're used in tens of thousands of products, and are found in many items-- even some processed foods--that claim to be "natural" or "hypoallergenic" (terms that aren't governed by federal standards or definitions).
Potential Effects:: May cause allergic reactions; endocrine disruption; contact dermatitis; toxic in animals by ingestion. Linked to several hormone related diseases including breast cancer and fetal development in pregnant women and abnormal development of male reproductive systems.
Cosmetic Uses: Many cosmetic and personal care products
Other Uses: Used in various processed foods
Other Names: Esters of hydroxybenzoic acid, butylparaben>propylparaben>ethylparaben>methylparaben
Ensure you read ingredients labels, become an ingredient detective and aim to avoid products containing this chemical. For further information please refer to websites below: www.waddick.mionegroup.com/toxic To purchase unique chemical free Certified Organic products that contain NO: toxic petrochemicals, propylene glycol, parabens, sodium lauryl sulphates (SLS), synthetic dyes or perfumes, fragrances, mineral oils, paraffin, chemical colouring, artificial colouring, animal fats and are NOT tested on animals.
Click here for MiEssence Products A wise investment in yourself that will ensure you are not exposed to any nasty chemicals and thus protect your health and the health of the environment.
The information on Parabens was sourced from "The Chemical Maze Shopping Companion". Your guide to food additives and cosmetic ingredients. Bill Statham 3rd Edition 2005 Possibility.com
---
Useful Tip for Chemical- Free Living
To stop the bleeding and soothe the pain from a lost or recently pulled tooth, wet a tea bag with cool water and press directly onto tooth socket.
---
Organic Skin Product Highlight

Garnet Exfoliant (normal skin)
Miessence polished alluvial garnet works effectively to clear congestion resulting from a build-up of dead, dry surface skin cells. The best scrub ever, with a fresh citrus blend of organic lemon, bergamot and orange.
A build up of dead skin cells causes a rough and dull appearance. Exfoliating the top layers of dehydrated cells promotes a youthful, glowing skin.
Squeeze a small amount of exfoliant onto damp fingertips and GENTLY massage onto damp skin using a small circular motion, paying particular attention to T-zone if necessary.
Use a few times a week for normal/combination/oily/clogged skin. Do not exfoliate blemished skin, to avoid spreading infection
Click here to discover more about this amazing skin product Buy Miessence Garnet ExfoliantToday
---
Healthy Organic Recipe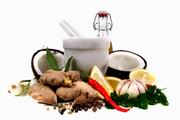 Beetroot Cake
Ingredients:
2 cups of self raising flour
1 cup of caster sugar
1/2 cup soy milk
1/4 cup olive oil
1/2 cup coconut milk
1 cup fresh shredded and drained beetroot
Method:
Sift dry ingredients together in large bowl. Add remaining ingredients and mix thoroughly. Cook for 25-30 minutes in round non stick cake tin at 170'C or until firm in middle, then cool and ice if desired.
Enjoy!
For more healthy recipe ideas please see my full listing at Organic Food Recipes
---
Quote of the month:
"There are only two ways to live your life. One is as though nothing is a miracle. The other is as though everything is a miracle." Albert Einstein
If you have any questions, comments or suggestions please send me an email. I would love to hear from you.
Health and Happiness
Miranda Waddick
www.essential-organic-living.com
miranda@essential-organic-living.com