Hello People!
Thankyou for being a valued subscriber to the Essential Organic Living Newsletter.
"We all have angels guiding us…They look after us. They heal us, touch us, comfort us with invisible warm hands…What will bring their help? Asking. Giving thanks." Sophy Burnham
Table of Contents:
Organics in the News
Chemical Ingredient Highlight
Useful Tip for Chemical-Free Living
Organic Supplement Product Info
Healthy Organic Recipe
A touch of humor/Inspiring story/Quote
It's October already and the garden is looking beautiful with lots of flowers and blossoms everywhere. The vegie patch is also looking healthy, especially the spinach and silverbeet and I am just loving the warmer days in the garden. I have just planted some zucchini, lebanese cucumbers and lettuce so lets hope they thrive. Enjoy reading this month and make sure you try my Tofu Green Curry Recipe as it's delicious and very easy to make.
Cheers
Miranda
---
Organics in the News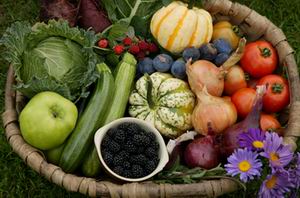 Study links Parkinson's disease to long-term pesticide exposure.
Scientists have found further evidence of a link between Parkinson's disease and long-term exposure to pesticides.
A study of more than 300 people with the neurological disease — which can affect movements such as walking, talking and writing — found that sufferers were more than twice as likely to report heavy exposure to pesticides over their lifetime as family members without the disease.
The new research, led by American scientists, looked at the lifetime pesticide exposure of 319 Parkinson's patients and more than 200 of their relatives without the disease. The results, published a few months ago in the journal BMC Neurology, showed that people with Parkinson's were 1.6 times as likely to report an exposure to pesticides in their lifetimes compared with the controls.
In addition, people with the Parkinson's were 2.4 times as likely as people without the disease to report heavy exposure to pesticides, classed as more than 215 days over a lifetime. Of the 3,000 carers surveyed, most of whom were family members, less than 2% had had similar exposure," said Breen. "This demonstates that pesticides may be contributing to nerve cell death in some people with Parkinson's, but is unlikely to be the only cause."
Symptoms of the disease first tend to appear when a patient is older than 50, and can include tremors and muscle rigidity. The Parkinson's Disease Society estimates that around 10,000 new diagnoses of the disease are made ever year in the UK.
To read the full article click here:
---
Chemical Ingredient Highlight
LANOLIN
Lanolin is an emulsifier and emollient. It is perfectly safe itself but cosmetic-grade lanolin can be contaminated with carcinogenic pesticides such as DDT, dieldrin, and lindane, in addition to other neurotoxic pesticides.
Potential Effects: May cause allergic skin reactions, acne and contact dermatitis.
Cosmetic Uses: Lipstick, mascara, nail polish remover, eye shadow, hair conditioner.
Other Uses: Pesticides
Other Names: Lanolin oil, Lanolin wax Ensure you read ingredients labels, become an ingredient detective and aim to avoid products containing this chemical. For further information please refer to websites below: www.waddick.mionegroup.com/toxic
To purchase unique and pure Certified Organic products that contain NO: toxic petrochemicals, propylene glycol, parabens, sodium lauryl sulphates (SLS), synthetic dyes or perfumes, fragrances, mineral oils, paraffin, chemical colouring, artificial colouring, animal fats and are NOT tested on animals.
Click here for MiEssence Products A wise investment in yourself that will ensure you are not exposed to any nasty chemicals and thus protect your health and the health of the environment.
The information on Lanolin was sourced from "The Chemical Maze Shopping Companion". Your guide to food additives and cosmetic ingredients. Bill Statham 3rd Edition 2005 Possibility.com
---
Useful Tip
Eggshells are a great addition to your compost because they are rich in calcium- a nutrient that helps plants to reach their maximum growth. Crush them before you put them in to help them to break down faster.
---
Organic Supplement Product Info

Berry Radical
Miessence Berry Radical is a new and exciting creation with exceptional health benefits. A product of extreme purity and health benefits that you will not find anywhere else.
Berry Radical: The certified organic, antioxidant super food: A potent combination of 10 of the world's most potent, antioxidant, super foods.
Contains certified organic, antioxidant-rich raw cacao (chocolate), fruits, berries and marine micro algae to support healthy immune function and protect cells.
Contains a wide spectrum of nature's most powerful antioxidants: hydroxytyrosol, zeaxanthin, alpha and beta- carotene, lutein, lycopene, anthocyanin, cryptoxanthin, xanthophyll, epicatechin, quercetin, punicalagins and ellagic, chlorogenic, gallic, ferulic and caffeic acids from organically grown chocolate, berries, fruits.
Helps quench damaging free radicals in the body. May slow processes associated with aging. Supports healthy immune function.
The ingredients in Berry Radical have been proven to assist the body in neutralising free radical damage.
Make a super-nutritious beverage by blending Berry Radical with hot water and rice or soy milk. Sweeten to taste. Add to your favourite smoothie recipe to supercharge it!
Dairy milk should be avoided with Berry Radical, as research has shown that the casein in dairy milk blocks the beneficial vascular effects of the antioxidants.
Click here to discover more about this amazing new healthy organic supplement poduct Buy Miessence Berry Radical Today
---
Healthy Organic Recipe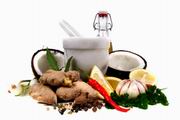 Tofu Green Curry
Ingredients:
3 2-3 reaspoons of green curry paste
250grams of firm tofu diced in small cubes
2-3cm of fresh ginger sliced thinly
1 red onion finely sliced lengthways
250ml of coconut cream
3 kaffir lime leaves
1 cup of water
1 tablespoon of fish sauce
1 tablespoon of sugar or pear juice concentrate
1 medium orange sweet potato cut into 5cm chunks
400grams of butternut pumpkin peeled and cut into 5cm chunks
3 medium carrots peeled and cut into 2cm thickness
1 small head of broccoli cut into small florets
handful of snow peas
few sprigs of fresh coriander
1tsp pepper
Method:
Add curry powder, ginger, garlic and onion in pot and sauté on gentle heat for few minutes. Add coconut cream, fish sauce, cup of water, kaffir leaves, tofu, coriander, sweet potato, pumpkin and carrots. Cover and slowly simmer for 15 minutes. Add greens and simmer for further 10 minutes until cooked. Garnish with some coriander and serve with white or brown rice. Enjoy!
For more healthy recipe ideas please see my full listing at Organic Food Recipes
---
Quote of the month:
"Sometime in your life you will go on a journey. It will be the longest journey you have ever taken. It is the journey to find yourself." Katherine Sharp
If you have any questions, comments or suggestions please send me an email. I would love to hear from you.
Health and Happiness
Miranda Waddick
www.essential-organic-living.com
miranda@essential-organic-living.com