Organic Makeup......The Essential Alternative

Replace your toxic color cosmetics with Organic Makeup, the pure and natural alternative.
If you are like me and you care for your skin by using organic skin and body care preparations, it makes sense to use organic cosmetics. Created using only pure, refined minerals, jojoba oil, shea butter, advocado and sunflower oils, unrefined beeswax and superb organic essential oils.
There are hundreds of toxic ingredients in cosmetic products today that have not been tested for safety. They can not only harm or irritate your delicate facial skin, but can also seriously affect your long-term health.
For facts on specific toxic chemicals Click Here . If you type in a specific ingredient that you find on the back of your cosmetic or personal care item, this will provide you with details on its chemical properties. Pay particular attention to the hazards identification section which is always on the first page of the MSDS (Material Safety Data Sheet).
This website can be an eye-opener and make you think twice about purchasing your regular products.
---
Click here to receive 7 Free Natural Health Reports
---
What to look for when buying Organic Beauty Products
It is important to ensure when you purchase organic cosmetics to take note of the following points: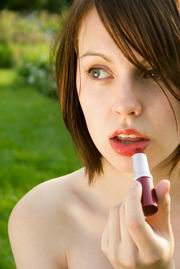 Free of synthetic preservatives
Talc free
Mineral oil free
No artificial colours or fragrance
Made using pure natural mineral pigments for colour
Certified Organic ingredients that nurture your skin (e.g. organic jojoba seed oil, organic shea butter, organic safflower oil)
Contain natural waxes (e.g. organic unrefined bees wax) used to create creamy Organic Lipstick
TIP: Are your eyes irritated when using commercial mascaras? Do your eyelashes seem thin and brittle? Try Organic Mascara which will assist in building thick, supple and healthy lashes. It's a true favourite of mine.
I highly recommend only using Organic Makeup.
Want to learn about my personal recommendations for a simply stunning Organic Foundation? Click here It is a lot safer for you; it will decrease your toxic intake; it will highlight your facial features naturally; make your skin glow; and last but not least you will not be overly concerned if your child finds your makeup bag and starts experimenting!
"Taking joy in life is a woman's best cosmetic", Rosalind Russell
---
Return from Organic Makeup to Home Page