Experience the Difference of Organic and Natural Food
It may not look as attractive as its counterparts but organic and natural food has been grown without the use of pesticides, herbicides and fertilisers. It is grown in a way that cares for the environment.
If you find the odd insect or bug amongst the leaves on your organic fruit and vege consider it a blessing. It's a great indication that it's a healthy food. The bugs are letting you know its chemical free and tasty!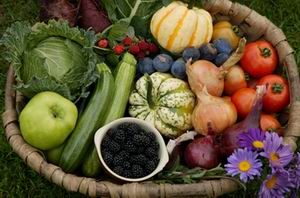 The old saying of "An apple a day keeps the doctor away" is far from true when you consider that non-organic apples can be sprayed with up to 100 different pesticides and herbicides.
To me there's nothing more satisfying that biting into a locally grown (or even better home grown) organic, naturally ripened, juicy apple. Trust me when I say it truly will tantalize your taste buds.
---
Click here for 7 Free Natural Health Reports
---
Other great Advantages of Organic Food
High in nutrients and vitamin C
Ripened naturally by the sun
Fresh and grown in season
Grown in soil that's naturally replenished
Delicious Taste
NOT grown for it's looks, size or appearance
NOT sprayed with preservatives or coated with waxes
NOT genetically modified
Organic food can only be labeled as such if at least 95% of its ingredients are sourced from organic producers. Thus everything labeled organic has a set of rules governing the stages to bring the food to your kitchen table.
| | |
| --- | --- |
| WARNING: If a product does not have a certification symbol along with the words "Organic" on the label then it will not be organic. Look out for the following labels on products: | |
Green
Friendly and Safe
Biodegradable
Free Range
Barn Fresh
Hormone Free
Whilst the above labels may mean the product is kinder to the planet and better for your health than commercial foods they are not organic unless they have a certification symbol.
---
Is Organic Food really better for us?
One thing I know for sure is that it's certainly a lot tastier. Muching on a fresh piece of organic sourdough bread with butter, dipping some carrots in hommus dip or indulging in a few pieces of dark organic chocolate sure does tantalise the tastebuds.
By investing in and ingesting organic and natural food you are also avoiding exposure to many harmful cancer-causing pesticides. Many of the long-term health effects from repeated exposure to these pesticides are still unknown.
That's more than enough to convince me of the health benefits.

---
Why are Organic Foods higher in cost?
I believe that we all need to do what is best for ourselves and our family. I know this being a mother of two small children myself. Choosing to purchase organic produce can be more expensive. This is because it costs more to produce. For example organic fruit is usually grown in smaller crops and without growth stimulants.
This may cause a concern especially when there are many hungry mouths to feed. With this in mind I have come up with a list of useful money-saving tips for reducing expense when buying organic and natural food. Click for How to Save Money on Organic Groceries


According to Alison White from the Safe Food Campaign of New Zealand, "If you are trying to reduce pesticide residues in your diet especially seek out organic bread, fruit, salad vegetables, meat and butter". She also believes it is especially important for pregnant and women wanting to conceive to eat organic and natural food.
"Nourish your body mind and soul with the purity of organics just as Mother Nature intended".
---
Click here for 7 Free Natural Health Reports
Return from Organic and Natural Food to Home Page